Welcome to our next Weekly Bulletin. If you would like us to include something on our weekly news, please get in touch by emailing info@smartrecovery.org.uk. This weeks latest news is….
We are currently looking for qualified facilitators to help support a SMART meeting at HMP Belmarsh. If you would be interested in supporting this meeting, please email matthewf@smartrecovery.org.uk with subject line "HMP Belmarsh" for more information.
Scottish Veterans battle the heat
On the hottest day of the year, five Veterans attended SMART's facilitator training course in Edinburgh. Over two days they covered all aspects of SMART's 4-point programme and facilitating meetings. All five passed with flying colours; congratulations to Chris, Gordon, James, Paul and Rob. As Johnny Allison, Veterans Coordinator commented
'I can't put into words just how amazing this is to see five  Veterans who came to SMART not wanting to talk or even know what it was they were turning up to, train to become facilitators.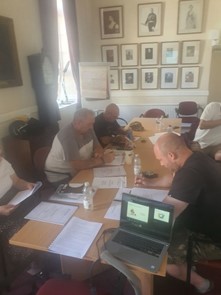 Seeing one person change by applying the SMART Recovery program to their life is amazing. To see five Veterans in stable recovery from a range of behaviours, ranging from substance abuse to mental health issues using the program and working with the tools is brilliant. To see them becoming part of a group and willing to help other veterans is just mind blowing.'
#veteranshelpingveterans The future is SMART. #stayclose #stayconnected #staysmart
Our Online Saturday Meeting at 5.30pm has been postponed. We hope that this will return again in August.
New SMART Recovery Meeting in Dorchester
New SMART Recovery Meeting in Kirkby